Last Updated:13 Oct 2022 10:06am
COVID-19 is a workplace hazard that presents risks to our health and safety, and to business continuity.
Employers have duties under the Work Health and Safety Act 2012 to manage the risks of COVID-19, just as they do any other workplace hazard.
While the Public Health Emergency Declaration for COVID-19 ended on 30 June 2022, it does not mean the responsibilities of employers have ended. Rather it represents a transition of responsibility away from Public Health and back into the hands of businesses to determine appropriate controls to provide a safe working environment for their business.
Managing risk
As an employer, you have duties under the Work Health and Safety Act 2012 to provide a safe working environment for your workers, contractors and visitors to your workplace. A safe working environment means all hazards are identified and controlled so far as is reasonably practicable. You are also required to provide your workers with safe systems of work, which includes processes that reduce the risk of exposure to COVID-19.
Doing a risk assessment and applying the hierarchy of controls tool (show in the graphic below) will help you to identify and assess your COVID-19 risks, and determine what controls will be effective to reduce these risks.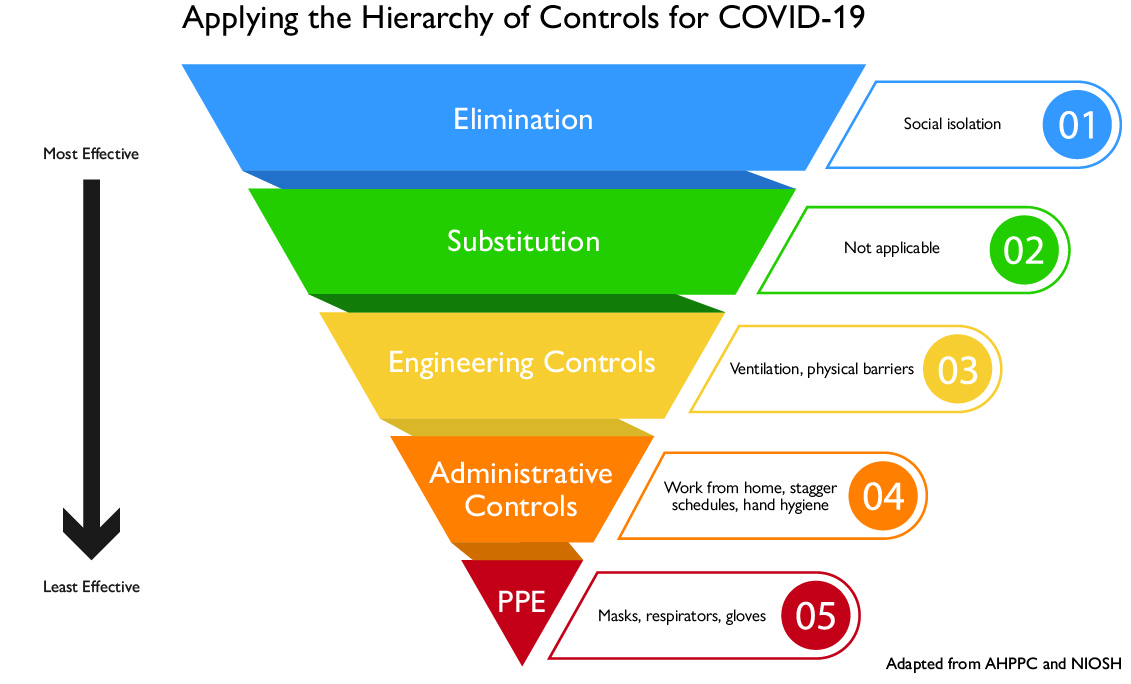 If the control measures outlined that you currently have in place — for example, wearing masks, density limits, and your cleaning regime — have worked for your business, you are encouraged to maintain them (with regular review to ensure they remain effective).
COVID-19 Safety Plans
While COVID-19 Safety Plans are no longer mandated they are still a sensible way for workplaces to document their control measures for managing the risk of COVID-19.
Businesses are encouraged to review and maintain their existing measures and COVID Safety Plan, or if you don't have measures and a plan in place do a risk assessment, develop a plan and implement the measures.
You should also regularly review your COVID-19 Safety Plan to ensure your control measures remain effective, the ongoing health and safety of your workers, contractors and customers, and your business continuity.
Instructions for how to create your COVID-19 Safety Plan
Template for your COVID-19 Safety Plan (PDF, 278.1 KB)
Other factors to manage
If you need to change your usual working hours/days or systems of work, you must do a risk assessment and control any risks you find. Issues you may need to consider include fatigue, stress, work breaks, your workers' training/skill levels, and providing personal protective equipment, information, training and supervision to ensure your workers' safety. See our guidance on:
Other resources
Incident notification for COVID-19

How to notify WorkSafe Tasmania when it is confirmed that a person has contracted COVID-19 through carrying out work.

Incident notification for COVID-19

Video resources

WorkSafe's videos on keeping your workplace COVID Safe.

Video resources