Last Updated:09 Jul 2020 10:26am
Please check this page and these links regularly for updates
The Tasmanian Government's COVID-19 Safe Workplaces Framework supports workplaces as they re-open or expand their business activities during the pandemic, while ensuring the health and safety of all Tasmanians.
The Framework encompasses Safe Workplaces Guidelines and minimum standards.
To comply with the new minimum standards, you should complete a safety plan and/or checklist. The Safe Workplace Guidelines will help you complete your safety plan/checklist.
COVID-19 Safe Workplace Guidelines
The Government has worked with stakeholders to develop industry specific guidelines to provide examples of the sorts of measures to suit businesses in each sector. Find the practical guidance tailored to your industry.
COVID-19 Safe Workplace Guidelines
COVID-19 Safety Plan templates and checklist
A COVID Safety Plan is a great way for businesses to document measures and show how they are keeping their customers, their workers and the community safe.
WorkSafe Tasmania has also developed templates to help small and medium businesses to prepare their COVID Safety Plans.
Keep your completed plans/checklist at your workplace: you do not need to submit them to WorkSafe (see How to comply below).
Please save this to your computer before you start to complete it, then you can go back to it as you need to. You can also print and complete them by hand if you prefer.
For all businesses:
For small businesses (employing fewer than 20 people):
For medium businesses (employing between 20 and 199 people):
For large businesses (employing 200 plus people): You may need to create a bespoke plan for your operations. Use the checklist and safety plan templates above as guiding documents.
All businesses may find useful the My Business's COVIDSafe Plan: National COVID-19 Co-ordination Commission (external link) which also includes business planning.
Videos
WorkSafe Inspectors Tony and Kylie discuss what to expect when an Inspector visits your workplace and how to make your workplace COVID Safe:
Role of WorkSafe Inspectors (external link)
Consultation and communication (external link)
Physical distancing (external link)
Training and information (external link)
WorkSafe Advisor Ken talks through every section of our safety plan template in this webinar with Business Tas (external link).
Business Tasmania also has this video on creating a COVID safety plan (external link).
How to comply
Workplaces that are reopening: you should have a safety plan in place.
Workplaces that have continued to operate: you should prepare a safety plan by 15 June 2020. Most workplaces that have continued to operate will likely be able to demonstrate that they meet the minimum standards in the measures they have already applied.
Keep your completed plans/checklist at your workplace: you do not need to submit them to WorkSafe. That way, when an inspector visits, you can use them to show how you are complying with the minimum standards.
You will also need to show an inspector any processes/procedures you've put in place to implement your safety plan. The inspector will check to see that your plan and procedures are being applied in your workplace.
For help completing your safety plans, contact WorkSafe's Advisory Service, which can help small to medium sized business. Book a free visit with an Advisor.
Minimum standards
The Director of Public Health has now issued a new Public Health Direction to manage the threat to public health posed by the spread of COVID 19 in workplaces.
The Direction sets out the minimum standards that businesses need to meet to manage the risk of COVID19 spreading and protect both workers and customers.
Businesses must implement measures to achieve the minimum standards and must also document these measures.
The new minimum standards require a workplace to:
manage the risks of a person contracting or spreading COVID-19 in the workplace
implement and maintain a cleaning schedule across the workplace
have good hygiene procedures and practices (such as washing and/or sanitising of hands)
ensure workers who have been instructed to quarantine or self-isolate don't come to the workplace
make sure physical distancing requirements are met by workers, contractors and others entering, leaving or moving around the workplace.
provide information, training and supervision on how the risks of COVID-19 are to be managed and ensure all processes and procedures are applied by the workers.
provide information and instruction to other people who attend the workplace about how they are to comply with your processes and procedures, and make sure they apply them
all information, recommendations, directions and guidance materials relevant to the workplace (obtained from reputable sources) is reviewed regularly to ensure the control measures implemented are appropriate
entry into the workplace is managed and controlled in a reasonable manner if someone is suspected of showing symptoms of COVID-19, or of being exposed to COVID-19 within the preceding 14 days, or or being diagnosed with COVID-19
any workplace records that would assist with notifying people who enter/leave the workplace of any potential exposure to COVID-19 must be kept for at least 21 days.
Employers must ensure that the above measures remove or reduce the risk posed by COVID-19 as far as is reasonably practicable and those measures are recorded in writing.
Managing risk
Work-related risk is managed under the Work Health and Safety Act, and the code of practice How to Manage Work Health and Safety Risks. These require workplaces to assess and manage risk so far as is reasonably practicable (see our explanation of 'reasonably practical').
This also applies to assessing and managing risk related to COVID-19. The code requires workplaces to undertake a risk assessment and apply controls using the hierarchy of controls. This is shown in this graphic: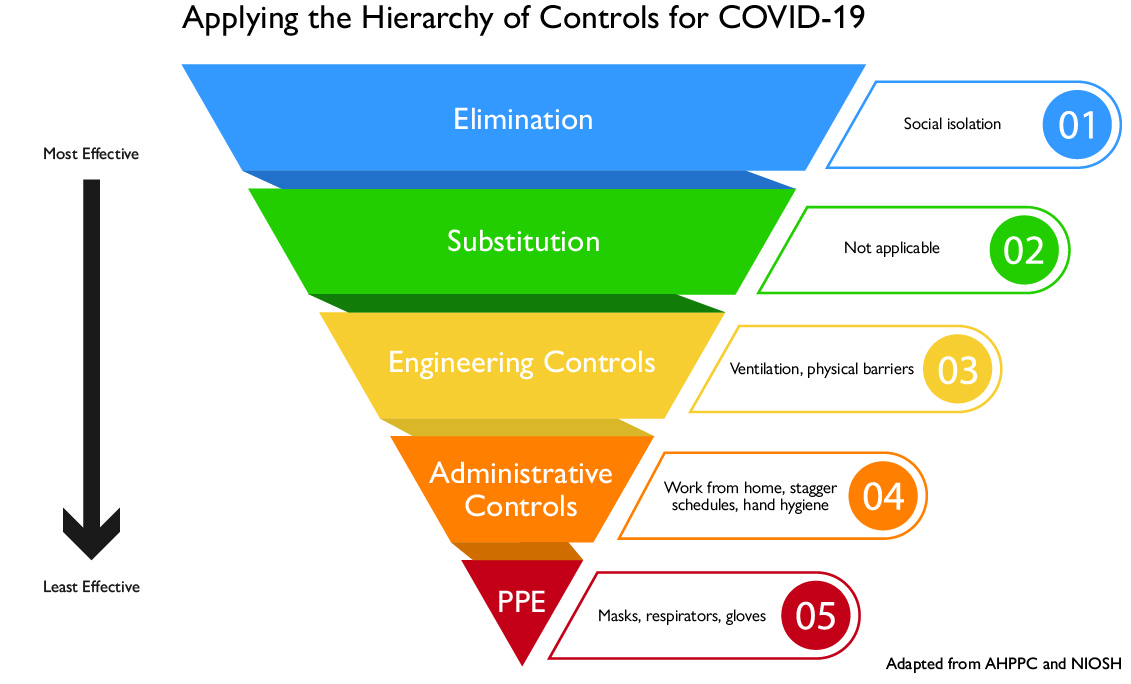 If you need to change your usual working hours/days or systems of work, you must do a risk assessment and control any risks you find. Issues you may need to consider include fatigue, stress, work breaks, your workers' training/skill levels, and providing personal protective equipment, information, training and supervision to insure your workers' safety.
See our guidance on:
Other employer responsibilities
Employers and businesses may also have other obligations under laws administered by WorkSafe Tasmania. Some businesses have contacted us to ask what will the regulator do if a business is unable to meet these obligations as a direct result of COVID-19. Our current advice is:
keep up to date with Coronavirus.tas.gov.au (external link) advice on controls to prevent the spread of COVID-19, including any restrictions on normal business activities, and respond accordingly
if there has been a confirmed case of COVID-19 in your place of business, you should seek advice from Public Health Services (external link)
if Public Health Services becomes aware of a positive diagnosis, it has procedures in place to track the movements of the person and will provide advice on what action should be taken
current legislative requirements remain in force; however, if you are unable to meet your regulatory obligations because of COVID-19 then we will take a reasonable and proportionate response.
(To ensure this information is easy to understand, we have referred to 'employers' and their responsibilities. However, under the work health and safety laws, duties apply to a 'person conducting a business or undertaking' (PCBU) which includes employers and also others who engage workers. See our information about PCBUs for more detail.)
Other resources
New Public Health Direction and current restrictions
COVID-19 Industry specific resources
All WorkSafe Tasmania COVID-19 videos (Youtube, external link)
Business Tasmania (external link)
Translated COVID-19 fact sheets in 63 languages: Australian Government Department of Home Affairs (external link)
Pandemic Plan Advice (PDF, 1.2 MB)